NEW BRE COURSES FOR SUMMER 2022!
* Click the Title to View the Course
Say It With Authority

ABOUT BRETT REEVES
I've been a writer, editor, and educator for over 30 years. My published work includes journalism, textbooks, academic writing, advertising, historical nonfiction, poetry, and music. I've written and recorded my own songs and co-written songs with other artists. As an educator, I specialize in Writing, Literature, and the Liberal Arts. I focus on the participants, who they are and how they can benefit from our time together. 
I know that anyone who cares about learning can learn.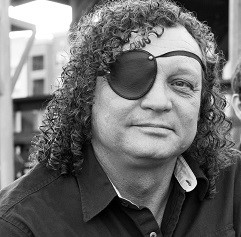 During the past few years, I have offered private courses to the Austin homeschooling community and also through Hill Country Academy and Austin Community College. Scroll down this page for a list of courses.
---
WHAT'S A BRE CLASS LIKE?
I center my classes around the exchange of ideas, a back-and-forth that requires and rewards participation. My participants tell me they enjoy the boldness of my curriculum choices, the gusto of my presentation, and the understanding they gain. We use and produce multimedia projects, including photos, video, music, and theater in our work together. Besides running a lively classroom, I like to take people on excursions–to museums, concerts, plays, Barton Springs–and enhance our experience. 
Scroll down for a list of courses I've designed and presented.
CREATORS' SALON
I've hosted several successful creative writing classes, and a creators' salon in which we explored Kurt Vonnegut's Slaughterhouse Five and then wrote and recorded an original song inspired by the novel. Whenever Vonnegut's narrator encounters some fresh horror or banality, he quips, "So it goes." So that's why we called our song, "So It Goes" 
HAPPENINGS: HOWL, EMILY DICKINSON
In the not-quite-a-course department, I like to stage "happenings," events that combine literature, music, theater, and generalized revelry. For example, during 2015-16, I produced two celebrations of American poetry, one for Emily Dickinson, and one for Allen Ginsberg, each hosted by Malvern Books. Each event featured audience members reading poetry aloud, moderated discussion, and music.  
Video from "Howl: A Celebration of Allen Ginsberg's Poem"
To celebrate the 60th anniversary of Allen Ginsberg's "Howl," we had audience members each read a strophe from the first section of the poem: "I saw the best minds of my generation…" (contains profanity).
Then I delivered the second part of the poem, known as "Moloch," channeling Ian McShane and a fallen preacher leaving the Baptist church:  "Moloch" (contains profanity).
And finally, my collaborator, W. Joe Hoppe, led us all in a call-and-response of the poem's loving finale: "I am with you in Rockland…"
---
LINKS TO SOME RECENT BRE COURSES
(2019-2021)
A SAMPLING OF BRE COURSES 
American Literature, Colonization to Present
British Literature, Beowulf to Present
World Literature, Gilgamesh to Present
English Composition: Argumentation, Evaluation, Expression
English Composition: Writing About Literature
Creative Writing: Poetry, Fiction, Drama
The Beat Generation
British Romanticism
Uses and Abuses of Power (American, British, and World Literature)
The Satanic Verses and World Religion
The American Civil War
Making History: America and World War II
American History, Colonization to the Civil War
Modernist American Poets
Literature of the American South, Colonization to Present
Literature of Temptation (World Literature)
American Literature of the 20th Century
British Poetry, Shakespeare to Milton
Lord Byron and Byromania
John Milton and His Descendants
History of England, Henry VIII to Charles II
Greek Mythology at the Source
Connections: History of Science and Culture
Stories from the Road (Children's Literature and Adaptations)
Literature of Troublemakers (Children's Literature and Adaptations)
The Hunger Games and Beyond, Dystopian Literature
Heroes and Their Journeys (Children's Literature and Adaptations)
A Survey of Childhood and Children's Literature, 1600 to Present
People and Animals (Children's Literature and Adaptations)
Star Wars and Its Fathers
Emily Dickinson Sunday: A Celebration
Howl: A Celebration of Allen Ginsberg's Poem
Confessional Poetry and Memoir
History of English and Dictionaries
The Structure and Function of Popular Song
Excursions: Writing about Experience
Slaughterhouse Five: A Creators' Salon
Truths: US History 1763-1815
The French Revolution
Reading to Write
Have Your Say and Read It, Too (Composition and Analysis)
Taking Shakespeare to the Movies
Thinking Outside
Say It with Style