THINKING OUTSIDE– AN EXPERIENCE IN PHILOSOPHICAL INQUIRY
Tuesdays, 430 – 7 pm
September 15 – October 13
For Participants Age 12-16
* This Private Course is by Invitation Only *
5 Meetings Under the Trees + Swim Time
Location: Zilker Park, Lou Neff Point
OUR PROJECT
We're not only thinking outside the box; we've gone somewhere else entirely. 
We meet beneath the trees and conduct a philosophical inquiry, then we swim. 
Young people are already thinking about big ideas. Spending time "Thinking Outside" will make that thinking more agile.
We'll connect with some of the keenest concepts and best techniques people have devised for puzzling out the question, "Who Are We and What Are We Doing Here?".  Scroll down to see our Agenda.
Our meetings last one hour. We read together, we discuss and debate, and we end each session by putting our ideas into action through drama and disputation.
Then we swim. We believe the mind is a function of the body. Both need exertion.   
TUITION 
Please remit $50 through PayPal or Zelle to BrettReevesEducator@Gmail.com.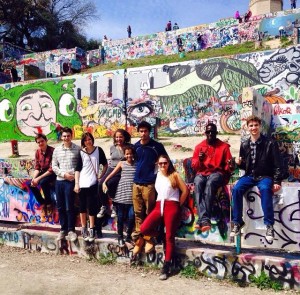 REQUIRED TEXT AND SUPPLIES
Philosophy For Teens. Kaye, Sharon, and Paul Thompson. Prufrock Books, 2007.
* Bring the PFT book, a notebook, and a pen to our meetings.
* Bring a swimsuit, towel, sunscreen, and snacks to the swimming hole. 
* Leave your prejudice at home.  
SCHEDULE & AGENDA
Meeting 1 Why Ask Questions? 
Trial and Death of Socrates.
Parable of the Cave.
What is Philosophical Inquiry?
Image as Reality.
Activity: Propose "3 Things People Just Need To Face About the World"; enact one to show the struggle.  
Meeting 2 How Do You Know What You Know?
Socrates: I at least know what I don't know.
Descartes, I think, therefore I exist.
The Liar's Paradox.
Activity: Enact 2 Lies & a Truth; Make Me Believe You; Astounding True Fact or Fake News?  
Meeting 3 Is that Beautiful or What?
Defining Beauty vs Taste.
If anything can be art, then nothing is art.
John Keats: "Beauty is Truth, truth beauty."
Activity: Produce competing reviews of artistic works.    
Meeting 4 Why Do Bad Things Happen to Good People?
Theodicy.
Paradise Lost.
Everything Happens for a Reason.
Is Religion a form of Philosophy?
Activity: Enact Gods v. Humans courtroom drama. Create your own deity and religious practice.
Meeting 5 Do We Need Government?
Hobbes, Locke, and Rousseau.
Who Are All These People and How Soon Do They leave?
The American Experiment.
Anarchists, Terrorists, and Freaks.
Activity: Produce an episode of "There Oughta Be a Law" gameshow.
ABOUT BRETT REEVES, EDUCATOR
My high school experience did not prepare me for college, much less for life. I was forcibly ushered to an early graduation from Reeves High School, then I promptly flunked out of Louisiana Tech.
For the next four years, I worked some of the world's nastiest jobs–literally digging ditches, installing erosion control mats along the Gulf Coast, grinding auto bumpers for an aluminum-plating company. I had some adventures, but the filth and the banality of those jobs helped me see the allure of giving academics another chance.
Even after I made my way through a couple of semesters at McNeese State University, and even after I threw out my Nursing major for English, I was still not prepared for academic work. I didn't feel like much of a person either. "Just because you are a character doesn't mean you have character." I wanted to get smarter and to be better. I just wasn't sure how.
I finally found the help I needed in Philosophy 101, taught by Dr. Richard Novak. "I don't care what your major is or what you're planning to do with your career. This is the most important class you'll ever take."
He didn't want us to become philosophy majors. "There are too many of us already." But he exhorted us to see that philosophy gave us strategies to work through all the rest that life would send our way.
"Not solutions," he cautioned. "Don't come to class for answers. Come to find out how to ask better questions."
I'm still looking, still asking.
I may not have the answers, but I have a clue.
***
I've been a writer, editor, and educator for over 30 years. My published work includes journalism, textbooks, academic writing, advertising, historical nonfiction, poetry, and music. I've written and recorded my own songs and co-written songs with other artists. As an educator, I specialize in Writing, Literature, and the Liberal Arts. I focus on the participants, who they are and how they can benefit from our time together.
I know that anyone who cares about learning can learn. I earned my Master of Arts degree in English from the University of Texas at Austin plus 36 hours of additional coursework. During the past few years, I have been offering private courses to the Austin homeschooling community and also encountering students through Hill Country Academy, Sansori High School, and Austin Community College.